Having HIV is not a death sentence
Mary Matecho, a Community Health Volunteer who serves in the Indangalasia community unit, was on her usual rounds testing for malaria when a lady approached her. She told her about her son, Saul, that no longer left the house and she that she would appreciate it if Mary came to check on him. The mother explained that Saul's wife had died, and his daughters were already married and didn't live with him anymore. His house was a considerable distance from hers and so she couldn't check on him every day.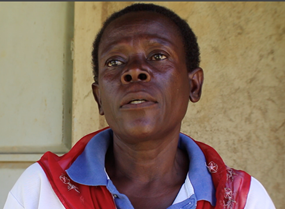 Mary decided to talk to the family first before approaching the client. She sat with the mother, the client's older brother and his wife, together with Mary's fellow Community Health Committee member (CHC). "His sister-in-law said that he was epileptic and so unapproachable, but I told her I wanted to see him myself. Even his mother and brother said that he had become violent and didn't want to see anyone," Mary explains. Despite all these comments, Mary and the CHC member decided to approach Saul's house. "When I knocked and asked to come in, he said to just push open the door and enter. I was shocked at what I saw." Mary says he was sitting in his chair, naked, with his body covered in wounds and swollen in several parts including his genitals. His house was also in an appalling state as it had not been cleaned for a long time and had chicken excrement all over. 
"I asked him what the matter was, and he said that it was just as we could see. I then asked him if it was okay for us to clean the house and his clothes and he had no objection. I wore my gloves and started cleaning his clothes while the CHC cleaned the house. After we were done, His mother came in to see how we were doing."  He started crying and Mary told the mother to leave the house. Mary then got some tea and succotash for him as he had not eaten in a while. After the meal, he confessed that he had wanted to see Mary but didn't know how to reach her. He expressed that his mother brought him food but pushed it into the house with a stick and when he was done, she tried to drag the dishes back out with a stick. His brother also never came into the house when he came to see him; he just asked how he as doing while standing at the door and left after he got a response from Saul. It was at this point that he confessed that he was HIV positive and was defaulting on medication since he had lost hope in life. Mary realised her opportunity to practice what she had learnt on Leap the mhealth platform on providing moral support for clients requiring palliative care has arisen. The module on Palliative care sponsored by the Kenya Hospices and Palliative Care Association (KeHPCA), covered various aspects of care including the physical, emotional and spiritual support a client needs. She encouraged him by explaining that she was also HIV positive and living quite comfortably and clarified that having HIV was not a death sentence. "I even told him that I was single and would be willing to date him after he got better," Mary mentions. She managed to get through to him, and Saul was ready for the next step as directed by her. 
"I asked him if I could wash him since we are not related and he obliged. (Seeing a relation naked in Mary's community is taboo) He told me his brother was the one who usually brought his medication from the health Centre. I told him at this point, he had to visit the health Centre for treatment for the symptoms affecting him and asked his brother to meet us at the facility." 
Mary helped him board a motorbike and got on hers to get to the facility. "On the way, I had to perform some first aid for a little girl who had fainted and so lagged behind for a bit." When she got to the facility, she found that he had already seen the doctor and had only been prescribed some painkillers.
She took his prescription and went to ask the attending physician what Saul had told him the problem was. "He had lied that he just had stomach pains and a headache even though he could barely walk. I approached him again and explained that all I wanted for him was to get better. I promised that I would give him a gift if he went in and was honest with the doctor. I accompanied him to the doctor this time."
During examination, he was asked to take off his pants which came off with a layer of skin. The doctor could not believe it. He was placed under treatment immediately.
"His brother and I stayed with him from 11am to 5pm when he was discharged. I made some porridge for him when we got back to his house and left. When I visited him the next day, he was already up and ready for the scheduled hospital visit."
After the visit, Mary explained to the family how they had to care for him by washing him and caring for his skin condition until he got better.
After a few weeks, he came to my house with a chicken as a token of thanks, even though I told him he didn't have to and explained that helping him was my reward," Mary says as she chuckles, "and now he lives his life with a renewed energy, and I couldn't be more thankful for the training."