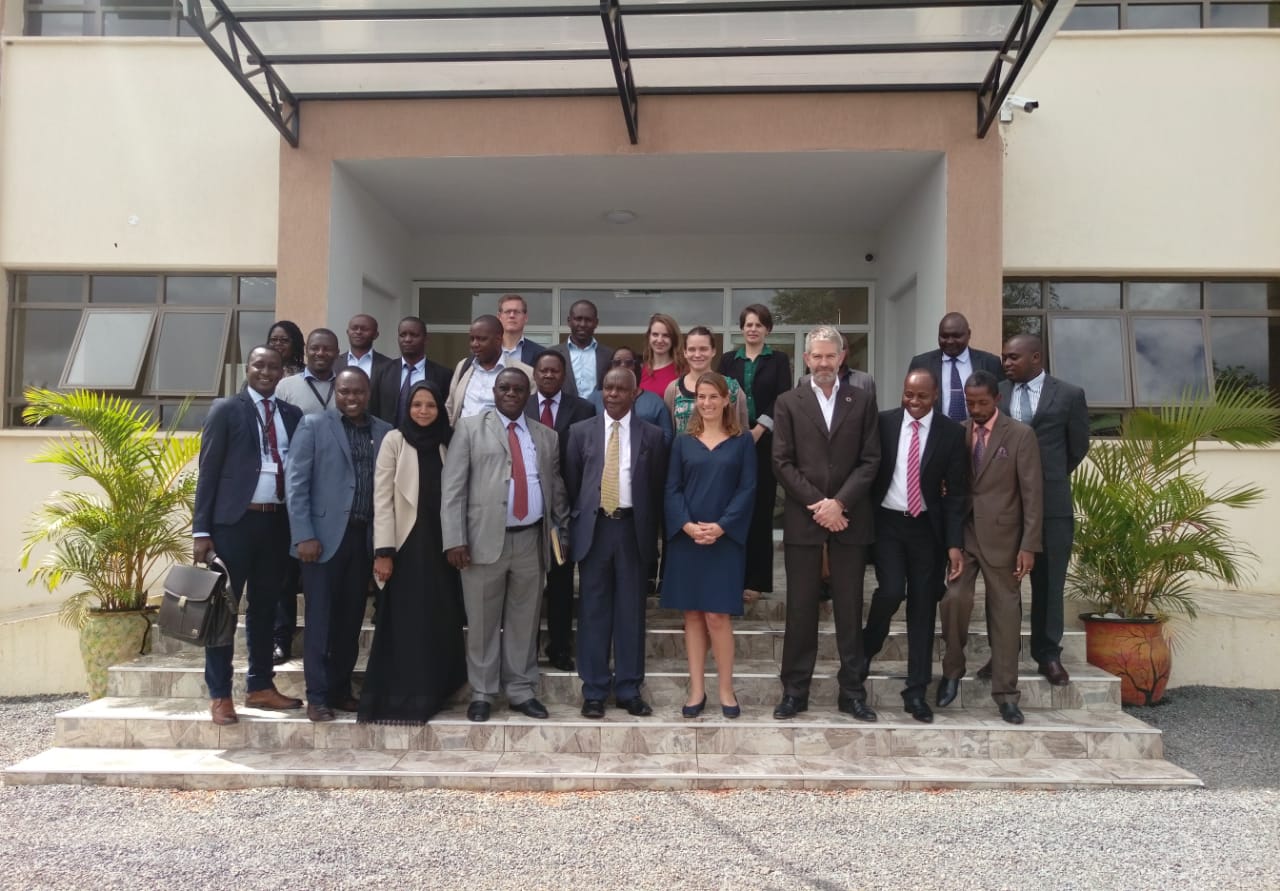 In July 2018, Amref Health Africa, Royal Philips and Makueni County came together to explore a Public Private Partnership for enhancement of the County's primary care system. While the public sector is able to provide affordable healthcare for all, it is not able to do so in a high-quality and sustainable manner. This has shifted the burden of providing high quality primary care to the private sector, but at a high cost, thereby locking out those who cannot afford to pay. This partnership was therefore formed with an aim to improve access to high quality primary care by ALL residents of Makueni County, in a financially sustainable and scalable way. Leveraging on mHealth innovations such as Leap and M-Jali, actively engaging Community Health Workers (CHWs) and working closely with the National Hospital Insurance Fund (NHIF) proved to be a suitable approach in moving the project forward. The CHWs were empowered with knowledge on various health matters through Leap so as to provide health education to their household members; an important aspect of preventive healthcare. Through M-Jali, they were able to register household members onto NHIF to cater for their medical expenses at the three pilot sites – Emali Model Health Centre, Tutini Dispensary and Matiku Dispensary – in the event that they fell ill; hence facilitating curative healthcare. These pilot health were upgraded so as to provide necessary healthcare to the residents of Makueni.
And so after only 3 months, progress was notable! Stakeholders drawn from Dutch Embassy, FMO Bank, Dutch MOFA, Dutch Enterprise, Phillip's Foundation, Amref Netherlands, Amref Enterprises Limited and County Government of Makueni paid a courtesy call to observe the progress of the project. The stakeholders were amazed..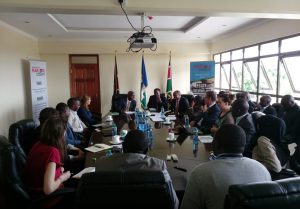 The team started by paying a courtesy call to His Excellency The Governor of Makueni County, Prof Kivutha Kibwana, who was flanked by his core advisors in the County Health Management Team (CHMT). Prof Kibwana reaffirmed his commitment to achieving Universal Health Coverage (UHC) by the year 2022. He appreciated the experience Amref Health Africa had at the local level, through the community based approach, in improving healthcare in several small health facilities instead of just one big health facility.
"We have noticed that since the facility upgrades were done, more people have started visiting these facilities. We are also trying to encourage the uptake of NHIF, in addition to MakueniCare, as we try to show the people the importance of financing their own health. I would really like to get an update of how the NHIF mobilization is on-going for the 3 catchment areas!" remarked Prof Kibwana.
His Excellency The Governor also emphasised on the role of the private sector in the development of all sectors instead of only relying on the national government and development partners.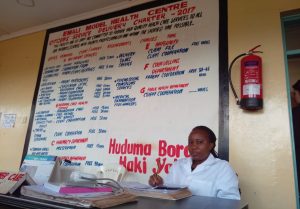 Later on, the stakeholders toured Emali Model Health Centre. Some of the notable improvements included reassignment of roles to rooms and creation of open workstations to improve the patient flow, addition of shelves for proper pharmaceuticals storage, face lifting the maternity unit up to standards and establishment of a laboratory department. June Omolo, Philips Project Manager affirmed, "The neo-natal and post-natal sections were in the same room without a working toilet and we thought that that was a ticking bomb for infections. Most of the equipment was also on the floor. Rearrangements of these departments has made a difference in efficient service provision."
Mr Sylvester Waita, the Clinical Officer in-charge at Emali Model Centre added, "We also had our CHWs sensitise people on NHIF and our registration database has since risen from a baseline of 8 at the beginning of October to 200 clients to-date. This will definitely generate adequate capitation-based funds for the facility since during NHIF registration, a client has to select a preferred out-patient facility."
The engaged CHWs also report positive responses from the public. "After training, we usually go out to sensitise our clients on the health matters we have learned. We encourage them to visit a health facility for treatment and check ups. When they see that their facilities are well equipped, they are motivated to seek healthcare and encourage their neighbours too. This has been one of the reasons NHIF uptake has been high," said Stellamaris Mutiso.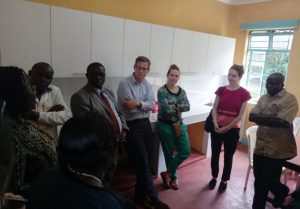 At Tutini Dispensary, the upgrade was also impressive. The Head Nurse, Rebecca Mutua, walked the team through the dispensary that was previously on the verge of shutting down before the improvements. "I was the only nurse here. This was just a hall with barely any equipment. We added partitions and got new beds for the maternity wing. We also got solar panels, and waste pits. We are waiting for this lamp to be installed to light up this entire place," remarked Rebecca Mutua.
"Having specialist clinics at the dispensary has also improved attendance at the facility as people become more interested in learning about their health, thanks to the CHWs," added Dr Khalid, Kibwezi West Sub County Medical Officer of Health whose passion for the improvement of these facilities was palpable.
Partner profile
Royal Philips – a leader in providing innovative technology solutions notably in areas of health informatics, personal health, treatment, and diagnosis – is committed to address the complex challenges in primary care service delivery across Africa. It would replicates this Makueni County.
Amref Health Africa, renowned for its capacity building efforts through innovative technologies, would roll out mHealth learning content though ingenious training methodologies mainly through Leap the mHealth platform as well as facilitating registration of household members onto the National Hospital Insurance Fund (NHIF) through M-Jali. M-Jali will also be instrumental for community health reporting.
The County Government of Makueni, viewed in most quarters as the best performing county in matters health care, would support this initiative by continuing its budgetary allocation of 28% of its budget in healthcare towards curbing negative health indicators, primary care facilities, healthcare personnel, and its own universal health coverage insurance scheme, Makueni Care. Notably, this allocation is slightly more by 4% of the National Government allocation to the public health sector.