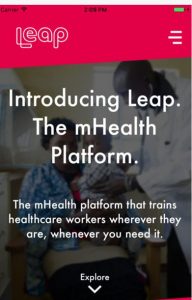 The Leap App simulates the experience of a Health Worker receiving topics through a basic phone by demonstrating how IVR & SMS capabilities are delivered to a learner.
The app also has a 360° view of the challenging environments in which health workers deliver health services to their household members.
In addition to that, you will have an opportunity to watch a video showing the scale and capability of Leap, on this app.
We invite you to experience a learner's journey by downloading this free app on iTunes at this link.