Skilled deliveries on the rise in Loosuk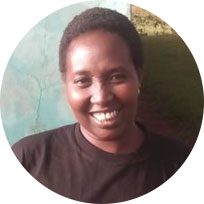 Loosuk Community Unit (CU) is one of the new CUs established in Samburu County. The CU is made up of 47 Community Health Workers (CHWs) drawn from 13 villages. Since its inception in February 2016, the CHWs have been working hard, visiting households and providing health education to community members so as to improve health levels in their community. An area of concern was the high number of home deliveries which sadly contributed to maternal mortality and neonatal deaths. But this has started to change following the training of CHWs through mobile learning (mLearning)and Uzazi Salama Project. Meet Mary Letiwa, a Community Health Extension Worker (CHEW) based at Loosuk Health Centre.
Mary notes that there has been an increase in skilled deliveries in Loosuk Health Centre. She attributes this to proper training of the CHWs. "Through mLearning and the Uzazi Salama Project, the CHWs have learnt about their role in the community and gained basic communication and counselling skills," says Mary. "This has helped them conduct household visits and follow up community members in a better way." Mary adds that the CHWs can now interact well with expectant mothers, advising them on importance of Antenatal Care (ANC)and skilled deliveries, and also referring emergencies to Loosuk Health Centre. Mary can't hide her joy! In April 2016, the number of skilled deliveries rose from 10 to 20, a clear indicator of the efforts made by CHWs, even sacrificing their own money to pay for patients' transport. Says Mary elatedly, "We are planning to organize a party to appreciate the CHWs' work in Loosuk! I am very proud of them."
Mary looks forward to more skilled deliveries. She is determined to offer her support to the CHWs so that they can reach more community members and advise them accordingly.