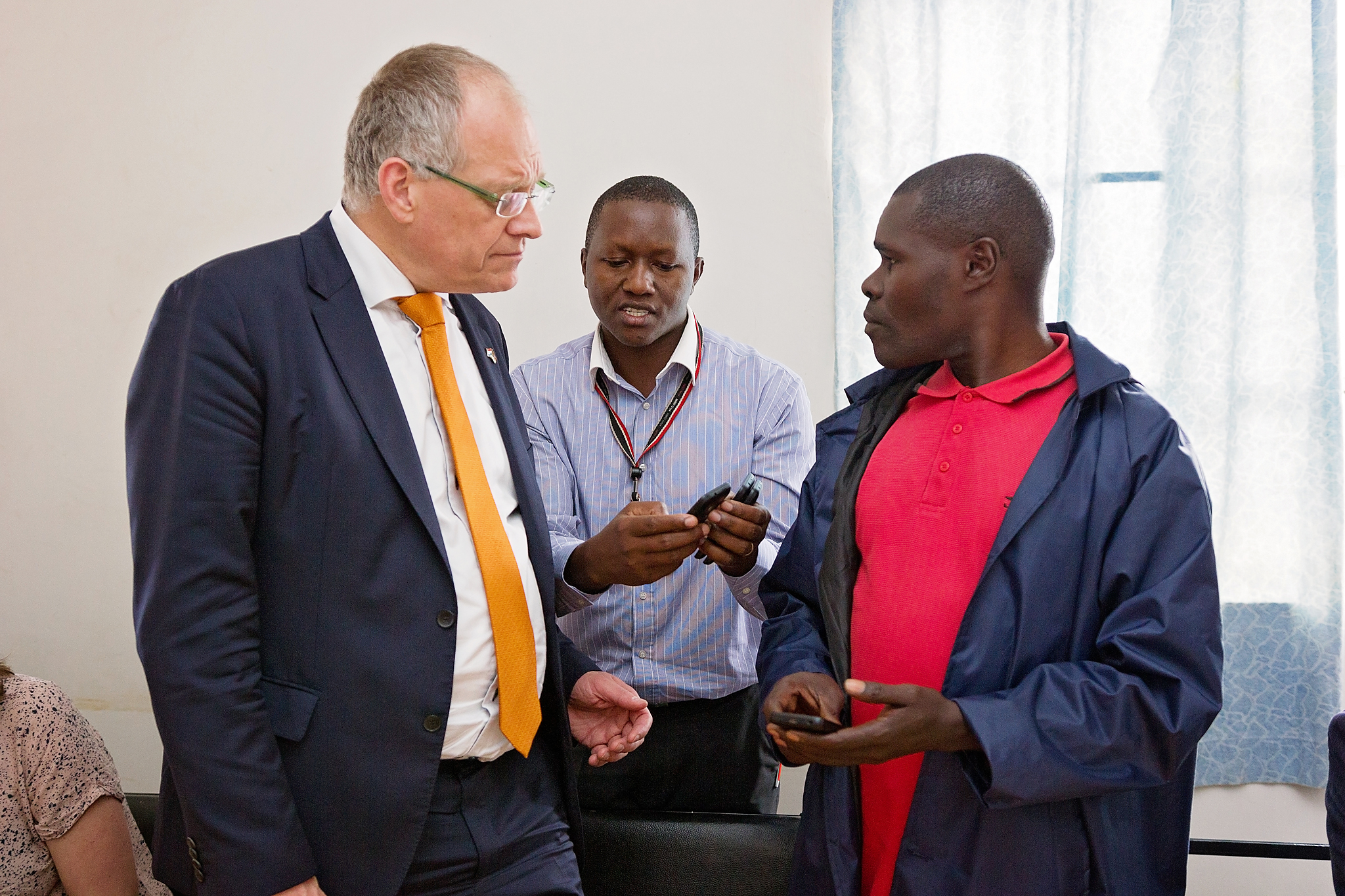 The field visit to Amref Health Africa's Leap site  in Kibera proved to be a success with those in attendance effusively praising the project. In attendance were dignitaries from the Netherlands including the Dutch Vice Minister of Health, Welfare and Sports, Hon. Erick Gerritsen, and Amref staff. After a tour of the clinic, the participants were introduced to the mobile technology by Dr. Frasia Karua. The feedback was largely favorable, with attendees being impressed by the various features of the mHealth technology.
"I think the project (Leap) is amazing! As Vice Minister I'm also in charge of eHealth in the Netherlands but I have to say you're way ahead of us," Hon Erick Gerritsen lauded.
Leap has been revolutionary as an mHealth training platform, having trained about six thousand Community Health volunteers with thirty thousand more in the pipeline. The technology is not only cost effective as it cuts down on most expenses of traditional learning but actually improves trainees' performance.
Community Health Workers (CHWs) and Community Health Extension Workers (CHEWs) were also at hand to comment on the impact that Leap had made on their professional progress, highlighting the ease and timeliness with which they accessed content, gradually improving their skillset. "The information we acquire from Leap is very relevant, dealing with issues such as maternal health, high blood pressure and family planning. These are topics that give us confidence to do good work in the community and also to save lives," Patrick Malachi, a CHW affirmed.
Dr. Karua also gave a summary of the success of the platform, revealing plans to scale up Leap into other countries under the Amref Health Africa banner.
"We have been encouraged by the success of Leap and are now even willing to spend money as Amref to launch the product in other countries," she said. Dr. Karua was delighted by the Dutch Vice Minister for Health's comments on Leap, concluding that it was evidence the platform had attained excellent standards and could even be marketed outside African borders.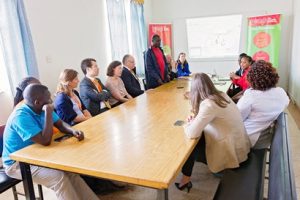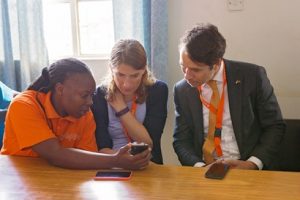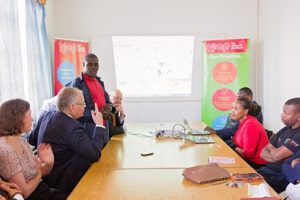 Leap the mHealth platform was born out of a public-private partnership between Amref Health Africa, Accenture, Safaricom, M-Pesa  Foundation and Mezzanine to empower communities by offering continuous training to community health workforce through mobile learning (mLearning). SMS and audio files have been tied together in a unique mobile learning pedagogy for training purposes. Since inception, Leap has seen tremendous growth having trained about six thousand CHWs with thirty thousand more in the pipeline. The technology is not only cost effective, as it cuts down on most expenses of traditional learning, but also improves trainees' performance through the various platform features. This includes a group chat feature that allows for peer learning as well as simplified multi-lingual content and instructions. – Story by: Dinah Karwitha