UHC becoming a reality in Laikipia County
Beautiful green landscape, home to wild animals such as elephants, leopards, giant forest hogs, lions, zebras and more than 100 bird species…the beautiful sights of Laikipia County. Located on the Equator in the former Rift Valley Province of Kenya, Laikipia is a cosmopolitan county inhabited by approximately 545,000 people and whose capital is Nanyuki.
In this county, the Community Health Strategy (CHS), an important component of the healthcare system working with Community Health Workers (CHWs) to upscale the health objectives, has taken a notch higher. Under the leadership of Governor Ndiritu, a Universal Health Coverage (UHC) programme was launched in 2017 to ensure quality healthcare for all, regardless of socio-economic status. In that regard, 75 CHWs were trained as part of a pilot phase and empowered so as to advise their household members on the importance of saving for healthcare. This was made possible through a partnership between  Laikipia County Government, Amref Health Africa, and National Hospital Insurance Fund (NHIF) whereby a module for collecting socio-economic data in households and registering them on NHIF was developed on MJALi application.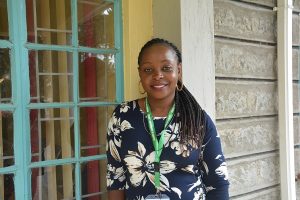 "The County brands the CHWs, provides them with smartphones, data bundles, lunch allowance and a monthly stipend of KES 2,000. Amref Health Africa on the other hand provided the MJALi application, conducted an orientation on the usage of the application, delivered training through Leap the mHealth platform and provides continuous technical support. NHIF ensures that the community members access healthcare at a public health facility whenever they need to," states Joyce Mueni, Sub County Community Focal Person, Laikipia East Sub County. "The registration service has been brought closer home through the CHWs. Household members no longer have to worry about the traveling costs to an NHIF office or a Huduma Center, 30km away for some of the community members, hence more people have enrolled!"
Meet Abdia Muktar, a household member in Majengo Community Unit (CU), Laikipia East Sub County. Abdia heard about NHIF through friends but kept wondering why she did not have an NHIF card. She therefore enquired from her CHW, Saadia Ahmed, who provided health education and informed her of NHIF and its benefits. Abdia was convinced and enrolled onto NHIF in February 2018, especially because she had lived with goitre for 5 years, with no hope of raising the KES 30,000 needed for an operation. "Since then, I have been able to visit the Nanyuki Teaching and Referral Hospital, see a doctor and receive medication. I will go for a goitre operation after Ramadhan," says Abdia joyfully. "Previously, I could spend up to KES 1,500 on a monthly basis on drugs! I would have to fundraise from family and friends but sometimes this wasn't enough hence I had to settle for just a few drugs. I am glad that I can now save bit by bit with proceeds from my business until I reach the KES 500 monthly premium required and visit the hospital without any worries."
Shiphirah and her husband Stephen Nyoike, community members in Lamuria CU, Laikipia East Sub County, decided to enroll on NHIF because they were convinced that it will assist them and their four children access healthcare. "I currently pay KES 1,000 per hospital visit, mostly for malaria and pneumonia treatment for my children. NHIF will be of great help!" says Shiphirah, who was advised by Julia Nyokabi, a CHW in Lamuria CU.
Download the full story at this link!
Story by: Edna Osebe, Amref Health Africa

Photography by: Rebecca Kiarie, Amref Health Africa