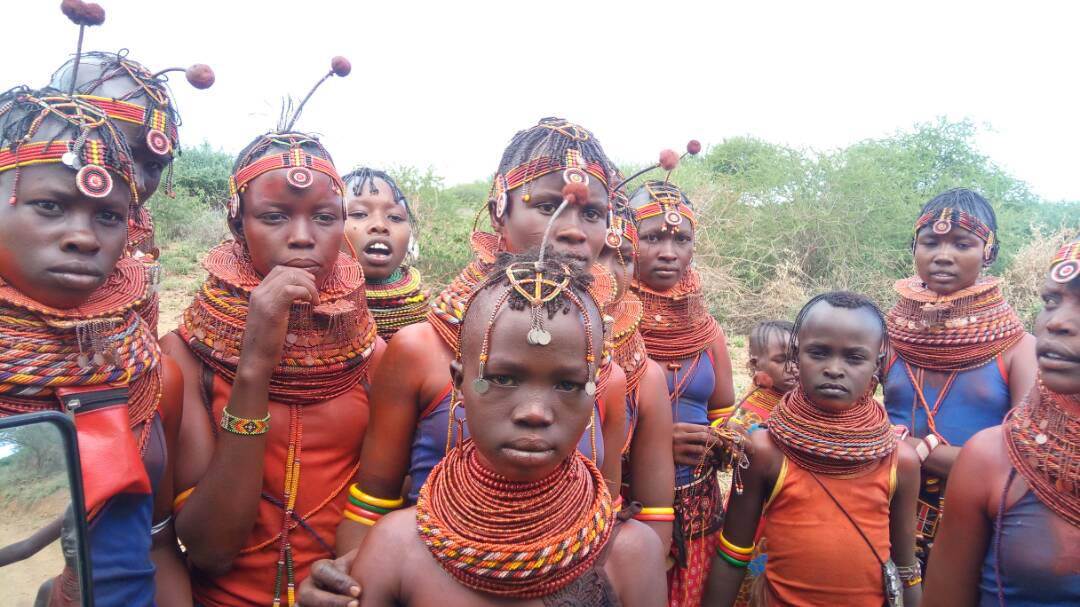 The journey to Charda village is light, albeit the bad roads. My company is very entertaining but half of my mind is on the kilos of meat we have just ordered at a Marti butchery. It is early afternoon and the sun is high and hot. I create a reminder in my head to remove the sweater I have on when we alight. Great conversation eases the burden of the bad roads and the heat, and soon, the car comes to a halt. There are hundreds of people waiting by the roadside, and for a couple of minutes, I think the Community Health Worker (CHW) we are traveling with is a Member of the County Assembly. But alas, the crowd is there for relief food, which had arrived a few minutes before us.
I alight.
All of a sudden everything goes dark. For a person who wears glasses, suddenly not being able to see is a pretty good sign that you are now, actually, 100% blind. I panic. How? Why? How?
I cannot be blind just like that! Isn't there something like a warning? I mean the body is like a machine, organs don't just shut down like that, do they? Being prune to panic attacks, especially in a crowded environment, I soon feel one coming on. There is a lot of background noise and I feel people pushing up on me. I know that I am about to lose it so I try to remember all the things my doctor told me about managing a bad situation to avert a panic attack. I touch my face, as if to confirm I still have one. My hands move to my glasses, and alas, there is light! I can see again!
Before I can jump up and down with joy, I notice that my colleague, Moses Otieno, who we fondly refer to as Oti, from PharmAccess, is struggling to swat flies. At that exact moment, I go blind again.
Again, I touch my glasses and I can see, but this time round I realise something. That my glasses were completely covered with flies. Yes, you read right. FLIES. There are thousands upon thousands of them. Their aim; to feast on my eyes. They attack everywhere and I don't have enough hands to swat them away. I even forget that I have a heavy coat on and the heat becomes bearable. At least it will protect my arms from being attacked by tiny insect legs. I feel violated; violated by flies.
The CHW quickly leads us into the village, which has one main entrance. Inside, the battle between oxygen and other forms of air is heavy and heated. My nostrils can literally pick out the different smells as we walk through the village. I even learn that donkey waste and cow waste smell differently!
Oti calls out to me and asks me to make way for a group of kids who are impatiently walking behind me. They are barefoot, stepping on all forms of defecation as they move. One has so much waste stuck on her feet one would think she is wearing shoes. As they pass me, the smallest of them all, turns to look at me and I struggle to find her face. Every inch of her skin is covered with flies. They have made her tiny face a battle field. Each little fly trying as hard as it could to reach the baby's eyes. Those that do not make it to her eyes settle for her mouth and ears. Since she cannot see, her friends hold her hand and hurriedly show her the way. Interestingly, none of the kids is bothered by the flies and they do not try to shoo them away.
Even though we do not see animals in the village, we are pretty sure the community lives with them in the same space. There are animal faeces everywhere. That, coupled by human waste and general litter makes the compound very unsightly. It is unlike anything I have ever seen before.
We get to the Manyatta (traditional Samburu hut) of Lochuch Lokitare, a CHW trained by Amref Health Africa, through Leap, the mHealth platform, on Maternal and Child Health under the Uzazi Salama Project, which is funded by the Mpesa Foundation and implemented by Amref and PharmAccess. Lochuch is one of the strongest women I have ever met (read her story here). She introduces us to one of the women, Akope, whom she saved by convincing her and her husband to embrace skilled delivery.
Some children come out of the nearby huts and stare at us as we engage with Lochuch and Akope. The children, just like the ones we saw previously, have faces covered with flies. The older children swat the bothersome insects away, but not as often, as it is shunned upon. Akope, who just gave birth, carries her two month old baby. Despite the heat, the baby is completely covered in several shukas (shawls). Oti, who is also a midwife, asks to check the baby and removes the shukas. The tiny child is perfect. She looks healthy but is suffering from severe heat rash. She shies away when the light hits her eyes.
She tries to open them but cannot.
Flies fight each other as they attack her small eyes. It then hits me that the probability of this young child seeing is very low. Another mother passes by with a five-month-old child on her back. This child cannot see. He struggles to get a glimpse but the flies do not let him. They feast on his eyes. It becomes unbearable to watch and one of my colleagues bats the flies away only to reveal eyes that have deep wounds. The eyelids have been chewed by the flies.
The presence of Trachoma (TT) in the village is so strong that flies appear to be tired of the "old" eyes they are used to, and celebrate when visitors with "fresh uninfected eyes" arrive. Only 20% of the population in Samburu County practice facial hygiene and wash their hands during the special times. The poor hygiene practices, blamed on the lack of water, have propelled the spread of TT, a chronic eye condition caused by Chlamydia Trachomatis bacterium. The bacterium produces a component that roughens the inner surface of the eyelids, causing eye lashes to turn inwards and rub onto the eyeballs. The disease is spread through contact with eye discharge from an infected person. Additionally, the fact that the said community also lives with animals, within the same space, makes the situation worse as the animals attract the flies.
Charda Village is unique as it lies on a battle field. The village is populated by the Turkana, who engage in cultural fights with the Samburu over livestock. Just like their Samburu counterparts, the Turkana live in harsh conditions. Lack of water and ignorance have all contributed to the prevalence of Trachoma in these Pastoralists communities. The ignorance can be abated by education and Amref Health Africa, through Leap, the mHealth platform, has instilled knowledge in CHWs on crucial health issues. The CHWs, in turn, teach their communities on the same health topics they have learnt.
In some areas of Samburu and West Pokot, CHWs have been trained on prevention and treatment of Trachoma. Areas such as Kamnono and Akiriamet in West Pokot, and Ldergesi and Barsaloi in Samburu, have benefitted greatly from such training, which was funded by SightSavers. After visiting Charda Village, which has approximately 240 households, I am convinced that they too, need to be trained through Leap.
All through my visit, I shuddered at the thought that this community does not know any better. That these children are going blind due to a preventable condition. So, the question is, after all this, what is it that we can do? On my part, I will support the current CHW campaign by Amref Health Africa, and urge donors such as Queen Elizabeth Diamond Trust through SightSavers, who have partnered with Amref to eradicate Trachoma in many villages in Kenya, to help restore the sight of this young generation in Charda. (This is through the Kenya Elimination of Trachoma Programme). If we do not work together, the young generation of Charda will go blind. Many other villages in Samburu County stand to raise generations that are blind due to Trachoma. Another similar village is Angata Nanyukie Village, where residents are in need of training on the Boma Model, a key Trachoma prevention strategy.
I leave Charda intrigued and motivated; appreciating the work that CHWs such as Lochuch, trained through Uzazi Salama, do. The fact that CHWs are dedicated and willing to learn, through Leap, and then educate their communities on the same, should motivate us, to do what we can, to provide the training they need to save lives.
Blog by: Michelle Dibo – Communications, Amref Health Africa