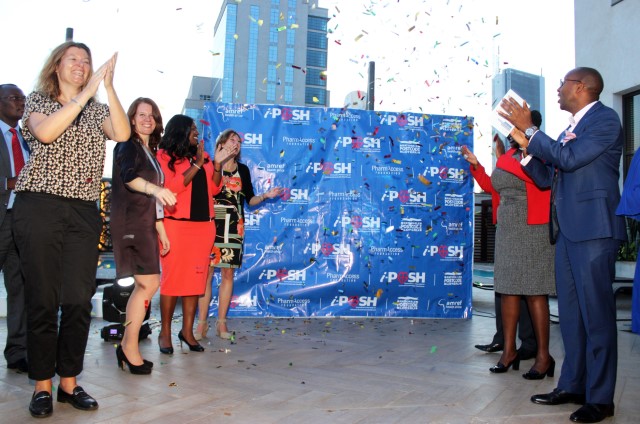 Amref Health Africa and PharmAccess have joined forces in an innovative partnership called i-PUSH (innovative Partnership for Universal Sustainable Healthcare). The partnership aims to improve access to better health care for 100,000 women and their families in Kenya through mobile phones.
i-PUSH was officially unveiled on March 7, 2017 at the Radisson Blu poolside in an elaborate event that drew the attendance of HE Phoebe Munya, First Lady of Meru County. Mrs. Munya expressed optimism when talking about i-PUSH's prospects. She also took note of the fact that the partnership launch came on the eve of International Women's Day.
i-PUSH leverages on the mobile technology revolution in Kenya to directly connect mothers to healthcare financing, quality and knowledge. It also helps build the capacity of community health workers. The partnership brings together three existing innovations — M-TIBA, Leap and m-Jali—from Amref and PharmAccess.
M-TIBA, which is owned by PharmAccess, is a digital platform for inclusive healthcare that enables people to save, send, receive and pay money for medical treatment through a mobile health wallet on their phone. Since its introduction in Nairobi last year, more than 300,000 users have signed up.
Leap, which is owned by Amref, is aimed at building capacity among community health workers using mobile phones. Through mobile learning or mLearning, Community Health Workers are trained on topics such as family planning, maternal and child nutrition, and sexual and gender based violence.
M-Jali, which is also owned by Amref, is a mobile application used by community health workers to capture data on household level on health indicators to improve efficiency of health reporting at the community level.
By partnering, Amref and PharmAccess intend to entrench sustainability and scalability in order to not only reach mothers and children in communities in Nairobi, but across all counties.
i-PUSH was made possible by a generous grant that Amref and PharmAccess were awarded by the Dutch Postcode Lottery in 2016.