And it's a 'Yes' to Solar Disinfection!
Boniface Ongicho is a Community Health Worker (CHW) in Nyameru Community Unit (CU), Nyamira County. He has been a CHW since the inception of the CU in December 2014. He has been a beneficiary of Leap the mHealth platform since early 2015 and received training through mobile (mLearning). Prior to mLearning, many community members would take water that is unsafe for drinking, citing lack of time and adequate firewood for boiling water, the only water treatment method they knew of. As such, many of them suffered from various illneses like diarrhea and typhoid. Though he frequently used boiled water for drinking, he once suffered from typhoid due to the occasional drinking of untreated water.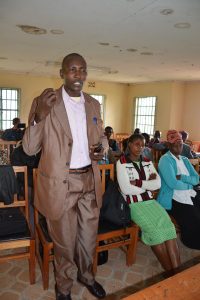 One of the topics that Boniface covered through mobile was Water Safety, Sanitation and Hygiene. In this topic, he learned about more varied methods of treating water other than the traditional boiling method. The solar disinfection method (SODIS) interested him most. Says Boniface, "I learnt that I can put water in transparent bottles, leave the bottles in the sun for six hours and it becomes safe for drinking. Since we have plenty of sunlight here in Nyamira, I decided to personally try this at home before sharing with others." Boniface noted that SODIS indeed saved time and money as no firewood was required. "I therefore advised my community members to try out this method. Now, you will many mothers putting water in transparent bottles and leaving the bottles in the sun before going to the 'shamba.' After farming, they would come and use the safe water for drinking!" He added that this practice has seen the numbers of typhoid cases going down. "I have never had a problem with typhoid again because I now ensure that I only drink treated water."
Boniface keeps advising community members to treat water prior to drinking, during his household visits, so as to remain healthy. He promotes SODIS, a method he finds suitable for his community members as it allows them to attend to their daily routine and attracts no fuel costs!
Download the story at this link!