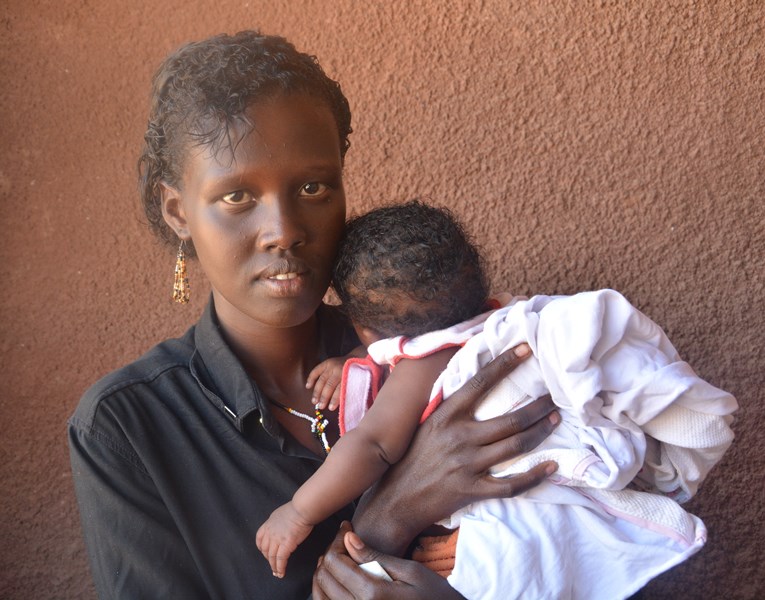 "Digital Trachoma training helped restore sight of a mother and daughter!"
When Chantal Hellen, a Community Health Worker (CHW) serving in Ldergesi Community Unit, Samburu County, started her training on Trachoma through Leap the mHealth platform, she had no idea she knew the infectious eye disease all too well. "When I heard the name Trachoma, I thought it was a foreign disease. This perception changed when I learnt of the symptoms associated with it," the mother of one narrates.
Trachoma (TT) is an eye disease that is highly transmittable. Caused by the Chlamydia Trachomatis bacterium, the eye condition is characterised by poor hygiene practices. Sadly, Samburu County has one of the highest prevalence rates of TT in Kenya. The county's prevalence rate for blinding TT among children below age 9 is 35% with the rate among the populace aged 15 and above being 6%. In order to eliminate TT in Kenya, WHO recommends less than 10% and 1% for the two age categories respectively, for control, and less than 5% and 0.2% for elimination.
Chantal, keen to make a difference and attempt to achieve the WHO guidelines, started identifying TT patients from her neighbourhood immediately after her training. Despite being heavily pregnant, she was able to refer two patients to an eye clinic!
"The first client was my elderly neighbour, Ashaina. I had seen her cover her face whenever she came out of her Manyatta (homestead)," explains Chantal. "I went to her house and asked if I could inspect her eyes. She already knew I was a CHW, so she allowed me to inspect her eyes with my small torch," she adds. Chantal was able to confirm that her neighbor, a grandmother of three, had Trachoma. "I gave her a referral and even went with her to the hospital where she qualified for surgery, and was treated," confirms Chantal.
One month later, as Chantal was almost approaching her due date, Ashaina walked into her homestead. "She asked me to follow her to her Manyatta, where I was introduced to her daughter, Entarapi. Her daughter is married at a nearby village, but I had never met her," Chantal explains. Ashaina explained to Chantal that her daughter also had eye problems and requested her to inspect her daughter's eyes. "Her eye lashes had turned inwards and she had pus in her eyes, which had turned red. I confirmed that she was suffering from Trachoma," she explains. Again, due to dedication and passion, Chantal accompanied Entarapi and her mother to an eye camp where Entarapi qualified for surgery, and received the treatment she needed. "They both are able to see very well now," confirms Chantal.
Chantal is one of the CHWs in Samburu County who have been trained on Trachoma through Leap. She is grateful for the knowledge gained through the platform. "I did not have much time to attend a class and study all day. Therefore, Leap, which allows me to study via phone, helped me gain knowledge on Trachoma very easily. I was able to learn at my most convenient times, and I can confidently say that this helped me identify the two patients I referred for TT surgery," she joyfully concludes.
Amref Health Africa, in partnership with Sight-Savers, through the Kenya Elimination of Trachoma Programme, has trained 336 Community Health Volunteers (CHWs) residing in Trachoma prone areas. This is a pilot project that seeks to increase the number of patients screened for the eye condition, increase the number of related referrals by CHWs, increase the number of clients confirmed to be TT positive and increase the number of CHWs successfully trained on TT, through the Leap mobile learning solution. Leap, an innovation by Amref Health Africa, allows partners to train CHWs on different health topics in an easy and efficient way. Through strengthened support, peer collaboration and continuous learning, Leap empowers CHWs with knowledge on health topics that affect their communities by providing a platform for learning that runs on the most basic of mobile phones. CHWs are able to learn, interact with each other and with their supervisors and also be examined through their mobile phones. Leap has been successfully implemented across rural, urban and nomadic regions in Kenya. To learn more about Leap visit https://leaphealthmobile.com/
Story by: Michelle Dibo – Communications, Amref Health Africa